Chris Simonds
Attorney at Law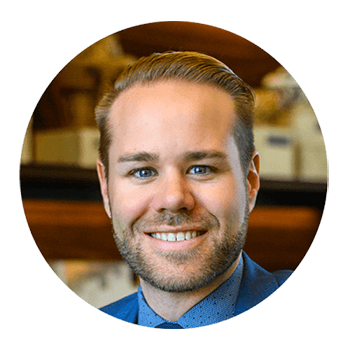 Chris Simonds| Family Law Partner
Chris practices both family law and criminal defense. He and Kate opened Simonds Law Group, PLLC in March 2021. Chris grew up in Racine County, Wisconsin. He met Kate in grade school and they began dating in college. Chris and Kate were married after graduating from law school.
Chris graduated from Marquette University with a Political Science Degree in 2006. While at Marquette, he interned for Speaker of the House Paul Ryan twice, studied international politics at the University of Westminster in London, and was a member of the college hockey team, playing center. Chris earned his law degree with a concentration in international law from Western Michigan College of Law. During law school, he studied abroad for several semesters training in international and comparative law in Spain, Canada, Australia, and New Zealand. Following his law studies, he had the opportunity to spend a month exploring Malaysia and Vietnam with Kate.
When you're in a high-stress situation, I'll be there on your side, advocating for your interests.
Chris Simonds| Law Practices
After passing the bar exam in 2009, Chris returned to Wisconsin. He began practicing family law with the Child Support Department. Following his entry into family law, he practiced as both a prosecutor and criminal defense attorney. Chris also opened a highly successful criminal and civil litigation firm in Wisconsin. He also taught law as an adjunct professor at Herzing University. He enjoyed the position and was honored as Adjunct Professor of the Year in 2014. He closed his firm and relocated to Arizona in 2017.
Chris Simonds| Family Law Practice in Arizona
His Arizona practice began in criminal courts. He has extensive practice and experience with the early resolution and specialty courts including EDC, RCC, Fugitive of Justice, Drug, and Mental Health Courts. He has been lead counsel in 19 jury trials and countless bench trials. He remains proud of his quickest trial acquittal – a client represented by Chris was found not guilty by a jury in 7 minutes.
In his free time, Chris enjoys traveling internationally and exploring the wild west. He lives in Phoenix with Kate and their German Shepherd. They love exploring the mountains and Arizona backcountry in their Hummer. Growing up, Chris was a competitive water-skier – he continues to enjoy exploring the local lakes and waterskis on the weekends. He has a Coast Guard-issued 100-ton master captain's license with a sailing endorsement and loves boating. During his transition to Arizona, he lived in Key West and worked as a boat captain. His favorite assignments included yacht delivery to the Bahamas. When feeling creative, Chris loves to play piano and works side gigs spinning as a DJ. He lives an active lifestyle that includes road biking, running, mountain climbing, water, and snow skiing, and he remains active on a hockey team. He attributes his energy for work and life to a plant-based diet and advocates for the lifestyle.